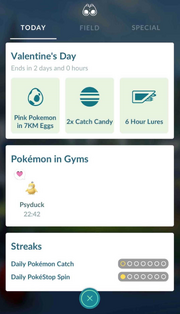 Today View is a game element to view all ongoing events and bonuses, daily streaks, and more.[1] It is located in Research tasks button. The sections include:
Timed Research: if there is Timed Research ongoing in the game it is displayed at the top of the page,
Events: displays any game features and bonuses related to the events that are currently running in the game.
Pokémon in Gyms: see how long your Pokémon have been defending their Gyms, how much motivation have left, which Pokémon have returned that day, and how many PokéCoins earned through defending Gyms.
Streaks: Track the Daily PokéStop Spin and Daily Pokémon Catch Streaks.
Upcoming: Check out what events are coming up.
Gallery
Icon assets
These are icon assets for images that show up next to description in listed bonuses of ongoing events on the Today View page.
Trivia
Today View was introduced in version 0.171.0.
Event section is not available when Today View is first launched until Spring Event.
References
Community content is available under
CC-BY-SA
unless otherwise noted.