Throh is a Fighting-type region-exclusive Pokémon from the Unova region. It does not evolve into or from any other Pokémon, though it is the counterpart of Sawk.
Pokédex description
Judo Pokémon
When it encounters a foe bigger than itself, it wants to throw it. It changes belts as it gets stronger.
Possible attacks
Fast attacks


Charged attacks



Evolution family
Throh is part of a one-member family.
Availability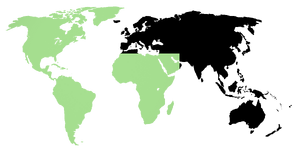 Method
Maximum CP
Details

Wild
2,196
2,379
(weather boosted)
In wild since 2020 Jan 10

Increased spawns in:
Pokémon GO Fest 2021: Jul 17 - 18 (ticket only)


Eggs
1,464

Increased chance/Previously in:
Native 10-km - 2020 Jan 10 - Oct 19
External links
Throh page, on the official Pokédex website
Throh article, on the Bulbapedia
Throh article, on the Pokémon Wiki
Pokémon


Throh