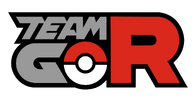 Team GO Rocket are the main antagonists in Pokémon GO. Based on the original Team Rocket, Team GO Rocket is comprised of grunts and leaders who want to steal others Trainers' Pokémon.
Appearances in Pokémon GO
List of Team GO Rocket events
Team GO Rocket Global Take-over: March 6th to March 9th, 2020

This event included global take-over mini-event on March 7th from 2:00 p.m. to 5:00 p.m. local time.
Task
Possible Rewards
Defeat a Team GO Rocket Grunt
Ekans
Meowth
Koffing


500×

Stardust


1×

Max Potion


1×

Max Revive
Defeat 3 Team GO Rocket Grunts
Skorupi
Purrloin


1000×

Stardust
Defeat a Team GO Rocket Leader

3×

Rare Candy
Social media takeover
At 9:00 PM EDT on July 26, 2019, Team GO Rocket took over the official Pokémon GO Twitter page and other social media.[3] Eventually, after a various messages, they announced that they will be taking over all PokéStops on July 28, 2019 for one hour beginning at 4:00 PM local time.[4] Control of the social media accounts were restored after 48 hours at 9:30 PM EDT on July 28, 2019.[5]
Statement
Trainers…

For three years, we have been watching. The world of Pokémon GO is rife with unlimited resources. This privilege is wasted on Trainers like you who lack the vision to exploit this vast world of resources and Pokémon.

You walk around and spin your PokéStops like this some kind of game. You battle in your Gyms and rejoice when they change colors. You care for Pokémon as though they're something more than tools! What a waste of potential!

We've brought our Shadow Pokémon, strengthened to unimaginable levels that you could never reach through powering up alone. We're here to take over your PokéStops and steal from their unlimited supply of resources. Can't you see the beauty of our evil?

This is just the beginning. Your resources are our resources. Your Pokémon are our Pokémon. Your world is our world! You can't stop us. Professor Willow, Spark, Blanche, Candela, and most of all, you—stay out of our way!

We follow the villainous path of those before us—and we will succeed in finally bringing Giovanni's vision to the world!

If you insist on trying to disrupt our plans, we wil lmake you feel a world of pain!

—Team GO Rocket
Gallery
Non-playable characters
Promotional images
References
Community content is available under
CC-BY-SA
unless otherwise noted.