Seviper is a Poison-type region-exclusive Pokémon from the Hoenn region. It does not evolve into or from any other Pokémon.
Pokédex description
Fang Snake Pokémon
Seviper shares a generations-long feud with Zangoose. The scars on its body are evidence of vicious battles. This Pokémon attacks using its sword-edged tail.
- Seviper's cry
Possible attacks
Fast attacks


Charged attacks



Evolution family
Seviper is part of a one-member family.
Availability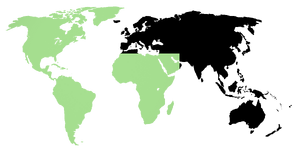 Gallery
Trivia
Seviper is currently a region-exclusive Pokémon of the Americas and Africa.

Seviper was originally region-exclusive Pokémon of Europe, Asia and Australia.
Seviper and Zangoose share status of region-exclusive Pokémon as they are well known for their ongoing feud against each other from other games and media of Pokémon franchise.
References
External links