Relicanth is a Water, Rock-type region-exclusive Pokémon from the Hoenn region. It does not evolve into or from any other Pokémon.
Pokédex description
Longevity Pokémon
Relicanth is a Pokémon species that existed for a hundred million years without ever changing its form. This ancient Pokémon feeds on microscopic organisms with its toothless mouth.
- Relicanth's cry
Possible attacks
Fast attacks


Charged attacks


Evolution family
Relicanth is part of a one-member family.
Availability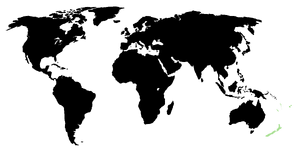 Method
Maximum CP
Details

Wild
2,167
2,348
(weather boosted)
In wild since 2017 Dec 21

Increased spawns in:
Adventure Week 2019: Jun 4 - 11


Eggs
1,444
native 5-km Eggs since 2019 Sep 26
Gallery
References
External links
Community content is available under
CC-BY-SA
unless otherwise noted.