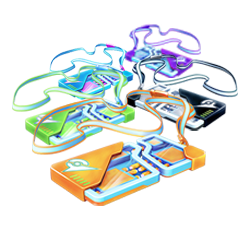 Raid Passes are items that can be acquired by spinning the Photo Disc at a Gym. The passes are used by Trainers to participate in Raid Battles. Raid Passes can only be obtained by Trainers on level 5 and above, because Trainers do not have access to gyms before reaching level 5.
There are four types of these passes:
free Raid Pass
Premium Battle Pass
Remote Raid Pass
EX Raid Pass
To see currently-owned Raid Passes, players can check them on the item bag page
.
Types
Raid Pass
Details
Trainers can receive one free Raid Pass per day by visiting a Gym, but can only hold one at a time. It cannot be simply removed from the Item Bag.

In-game description
Pass to join a Raid Battle. You can get a free pass at Gyms once per day if you don't already have one.
Premium Battle Pass
Details
A Premium Battle Pass that can be purchased from the in-game Shop.[1][2] Unlike the free Raid Pass, they can be carried more than one. They are not consumed for Raids if a free Raid Pass is present.

In-game description
A Premium Battle Pass can be used to join a Raid Battle or earn premium rewards in the GO Battle League.
Remote Raid Pass
Details
A Remote Raid Pass that can join any Raid Battle visible on the Nearby screen, tappable on the map, or via an invitation to a raid from a friend.[3] They cannot be purchased more if it would result in having more than three in Item Bag (can still be obtained as rewards).

In-game description
A remote Raid Pass can be used to join a Raid Battle remotely.
EX Raid Pass
Details


Trainers can obtain EX Raid Passes by winning eligible raid battles at EX Raid Gyms. Select Trainers will receive an EX Raid Pass via their Journal. When the player clicks on the item in the journal, an invitation will be presented and provide information as to when and where the EX Raid Battle will occur.

The chosen EX Raid Gym will be one that has been recently raided by the Trainer within the past several days.[4]

Starting on September 20th, 2018, when a trainer receives a pass, they may invite one Ultra or Best Friend to participate in the raid with them.[5]

In-game description
EX Raid Pass to join a field test for a special Raid Battle. You can use this pass only at the specified limited-time event.
Gallery
Trivia
The EX Raid Pass was previously called Exclusive Raid Pass.
The first EX Raid Passes were sent out to Trainers on Bellevue, WA on September 5th, 2017.[6]

The passes originally reserved a two-hour slot, but they have changed to just one hour.[4]

Premium Battle Pass can be deleted since 0.141.0 update.
Premium Battle Pass was previously called Premium Raid Pass before the introduction of GO Battle League.
Remote Raid Pass was introduced on April 27th, 2020, during the COVID-19 pandemic.
From 2021 to May 2022, a Remote Raid Pass was included in the weekly 1-coin offer.[7]
References