Roblox: DeepWoken - The Loop
Play Sound

Raid Battles are special, short events that take place within a Gyms in Pokémon GO.[1]
Details
A Raid Battle is a cooperative gameplay experience that encourages Trainers to work with other Trainers to defeat an extremely powerful Pokémon known as the Raid Bosses. Before a Raid Battle begins a large Raid Egg will appear atop the Gym. When the countdown above the Egg reaches zero, the Raid Boss will be hatched from the Egg and can be battled.[1] Raid Battles might appear between 5:00 AM and 7:45 PM local time. However, this time window can be changed during particular events.
EX Raid Battles
Main article: EX Raid Battle
There is also a special Raid called an EX Raid Battle which is an invitation-only Raid. A Trainer will receive a notification along with time, date and location; along with an EX Raid Pass to gain entry into the Raid.
Mega Raid Battles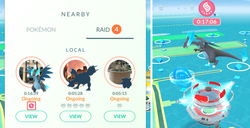 Mega Raid Battles are a special Raid Tier, that allows Trainer to battle Mega Evolved Pokémon in order to gather Mega Energy for specific Pokémon. These Raids have powerful Raid Boss at the same difficulty level as Tier 5 Raid Boss.
In Bonus Challenge, Trainer can catch a standard form of the battled Mega Raid Boss with a chance of it being shiny.
Raid Passes

Main article: Raid Passes
Before a Trainer can battle the Raid Boss, they'll need a Raid Pass. Trainers can receive one free Raid Pass per day by visiting a Gym, but can only hold one at a time. A Premium Battle Pass may also be purchased from the in-game Shop.[1] Players can also battle the Raid Boss remotely using a Remote Raid Pass.[2]
Raid Boss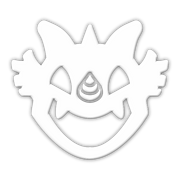 A Raid Boss or Boss Pokémon is an extremely powerful Pokémon that has very high CP. It hatches from a egg which appears atop a Gym upon the beginning of the Raid Battle. A countdown will display the time until the egg hatches and the battle begins.
Upon using a Raid Pass to join the battle, the Trainer and up to 19 other Trainers work together to defeat the Raid Boss. If a Raid Boss is successfully defeated within the three-minute time limit, or five-minute time limit for Legendary Raids, those Trainers have the chance to catch a decently powerful Pokémon of their own.[1][3] The captured Pokémon does not necessarily have the same moves as the Raid Boss.
A Raid Boss can battled as many times as possible before it is either defeated or the 45-minute time limit expires.
List of Raid Bosses
Main article: List of current Raid Bosses
There are a limited number of Pokémon that can be possible Raid Bosses at the same time.
The pool of available Raid Boss Pokémon have been changing since the feature release. Additionally, in past events, there have been exclusive Raid Bosses that cannot normally be encountered in Raid Battles. Some Raid Boss Pokémon had even their Tiers changed.
Tiers of Raid Bosses
Tiers are simply difficulty levels of Raid Bosses. These Tiers are distinguished with specific Raid Eggs which hatch into Raid Bosses. Upon the beginning of countdown for the Raid Battle, a Raid Egg will be placed atop the Gym. A countdown will display the time until the Egg hatches and the Raid Battle begins.[1][3]
A Raid Egg will usually appear one hour before it will hatch. Certain events will decrease the time of hatch time. The Raid tab in the Nearby Tab will denote the hatch time in 24-hour clock or military time. Once the Egg hatches, the Raid Boss will become available for battling for the next 45 minutes.
There are four kinds of Raid Eggs – Normal, Rare, Mega and Legendary, each of the Eggs represents another Tier of the Raid Boss.
| Egg | Type | Description |
| --- | --- | --- |
| | Normal | Hatches a Tier 1 Raid Boss. |
| | Rare | Hatches a Tier 3 Raid Boss. |
| | Legendary | Hatches a Tier 5 Raid Boss. |
| | Mega | Hatches a Mega Raid Boss. |
Prior to the release of Mega Evolution and Raid Tier associated with it, there were common Tier 2 and Tier 4 Raid Battles, which were decided by Niantic to be merged with Tier 1 and Tier 3 Raids respectively.[4]
Raid Boss CP formula
The formula is identical to the traditional CP Formula; except the stamina and CP scalar portion in the divisor are replaced with a tier scalar which also represents the Raid Boss's HP and the IVs for attack and defense are fixed to 15 (maximum IV).
Where TierScalar is:
Tier 1: 600
Tier 2: 1,800
Tier 3: 3,600
Tier 4: 9,000
Tier 5 and Mega Raids: 15,000
Tier 6 (marked as 5): 22,500
Rewards
Completing a Raid Battle for the first time will always award 1,000 Stardust. After defeating a Raid Boss, Trainers receive a collection of rewards which depend on the Tier of defeated Raid Boss.
| Tier | XP |
| --- | --- |
| 1 | 3,500 |
| 3 | 5,000 |
| 5/Mega | 10,000 |
| Potions | Revives | Rare Candy | Berries | Technical Machines |
| --- | --- | --- | --- | --- |
| | | | | |
Prior to the release of Mega Evolution and Raid Tier associated with it, Tier 1 and Tier 3 Raid Battles only rewarded 3,000 and 4,000 XP respectively. The current XP rewards were formerly given in Tier 2 and Tier 4 Raid Battles.[4]
Bonus Challenge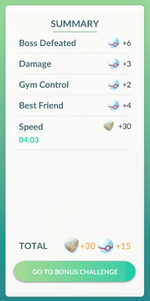 Bonus Challenge is a feature available for Trainers who successfully defeated Raid Boss and it gives an opportunity to catch the Raid Boss Pokémon as if it was a Pokémon in the wild, but with a significant difference – Trainer cannot use their owned Poké Balls.
After successfully defeating the Raid Boss and being rewarded with Items, there are Raid Battle performance summary shown to Trainer with amount of Premier Balls given to them and the Go to Bonus Challenge button displayed.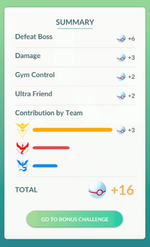 Initially, the Team Contribution Bonus was rewarding extra Premier Balls, however it was changed with Mega Raids introduction and it is now replaced with Speed Bonus that is time in which Raid Boss was defeated.
In 1, 3 and 5th Tier Raids Speed Bonus rewards Trainer with additional Premier Balls, while in Mega Raid Battles there is Mega Energy given depending on the Speed Bonus.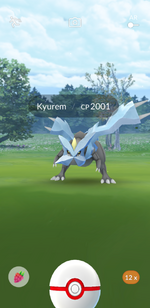 After tapping on the Bonus Challenge button, the encounter screen shows up with Pokémon that is a defeated Raid Boss. The player does not have their currently owned Poké Balls for use but only the Premier Balls that they have been rewarded for performance in won Raid Battle.
Pokémon in Bonus Challenge, especially Legendary and Mythical Pokémon, tend to dodge and attack more frequently and have low capture rate. However, the longer the catching attempt goes (ie: fewer Premier Balls remaining) there is an increased catching chance (though the exact amount is still being researched, it appears that as of the 9th ball used it is equivalent to using an Ultra Ball).[5]
If Trainer do not manage to capture the Pokémon with their last Premier Ball and there are no more Premier Balls left, the Pokémon will flee.
Trainer can leave the encounter screen of Bonus Challenge and re-enter it by tapping on the same Gym which the Raid Boss was defeated at, but as long as the Raid still occurs on that Gym.
Trainer can capture Pokémon after defeating Raid Boss in the Raid Battle which has ended and is no longer visible on Gym but once they leave the encounter screen they cannot return to it.
Gallery
History
Trivia
Before introduction of Research tasks and Trainer Battles, Rare Candy, Golden Razz Berry and TMs were exclusively available as rewards from Raid Battles.
Originally, the amount of Stardust given per Raid Battle was 500. It was increased to 750 on October 27th, 2018.[6] Then it was increased to 1000 on January 31st, 2019.[7]
Legendary Raid Bosses have a base capture rate of 2%.
The Raid Boss icon is based off of Rhydon's face — who was the first Pokémon designed and programmed into the original game.[8] There are also various Rhydon statutes that can be found throughout the game as well.
On November 4th, 2017, the Raid Bosses were rotated for the first time.[9]
During Pokémon GO Park and Pokémon GO Stadium event in Yokohama, for the first time in game, there were several event-exclusive Raid Boss Pokémon available.
Before January 31st, 2019, the stamina of Tier 3 to 6 Raid Bosses were 3,000, 7,500, 12,500 and 18,750 respectively.[7][10]
Mewtwo in normal Raid Battle and Darkrai in Halloween 2019 are the only Tier 6 Raid Bosses, with buffed HP and CP. They are labelled as Tier 5 in the game and give the same awards upon victory.[11]
Raid Battle concept was adapted in Pokémon Sword and Pokémon Shield games. They are called Max Raid Battles and they are source of obtaining Gigantamax Pokémon.
References