Pansear is a Fire-type region-exclusive Pokémon from the Unova region. It evolves into Simisear when fed 50 candies and given a Unova Stone.
Pokédex description
High Temp Pokémon
This Pokémon lives in caves in volcanoes. The fire within the tuft on its head can reach 600 degrees Fahrenheit.
Possible attacks
Fast attacks


Charged attacks



Evolution family
Pansear is part of a two-member family.
Availability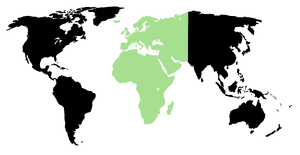 Method
Maximum CP
Details

Wild
820
888
(weather boosted)
In wild since 2019 Sep 16

Eggs
546

Increased chance/Previously in:
Native 5-km - 2019 Sep 26 - 2021 Jun 1
Trivia
External links
Pansear page, on the official Pokédex website
Pansear article, on the Bulbapedia
Pansear article, on the Pokémon Wiki
Pokémon


Pansear