Pansage is a Grass-type region-exclusive Pokémon from the Unova region. It evolves into Simisage when fed 50 candies and given a Unova Stone.
Pokédex description
Grass Monkey Pokémon
It's good at finding berries and gathers them from all over. It's kind enough to share them with friends.
Possible attacks
Fast attacks


Charged attacks



Evolution family
Pansage is part of a two-member family.
Availability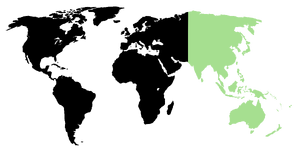 Method
Maximum CP
Details

Wild
820
888
(weather boosted)
In wild since 2019 Sep 16

Eggs
546

Increased chance/Previously in:
Native 5-km - 2019 Sep 26 - 2021 Jun 1
Gallery
Trivia
External links
Pansage page, on the official Pokédex website
Pansage article, on the Bulbapedia
Pansage article, on the Pokémon Wiki
Pokémon


Pansage