Mr. Mime is a Psychic, Fairy-type region-exclusive Pokémon from the Kanto region. It evolves from Mime Jr. after being fed 50 candies and has walked 15 km as a Buddy Pokémon. It has a Galarian form that is Ice, Psychic-type which evolves into Mr. Rime when fed 50 candies.
Pokédex description
Barrier Pokémon
Mr. Mime is a master of pantomime. Its gestures and motions convince watchers that something unseeable actually exists. Once the watchers are convinced, the unseeable thing exists as if it were real.
- Mr. Mime's cry
Possible attacks
Fast attacks
Charged attacks
Fast attacks
Charged attacks
Evolution family
Mr. Mime is part of a three-member family.
Availability
Mr. Mime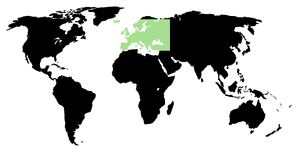 Galarian Mr. Mime
Gallery
Trivia
Normally, evolved stages of Pokémon cannot be shiny in encounter screen, but Mr. Mime can.
Mr. Mime is a region-exclusive Pokémon in Europe.
References
External links
Community content is available under
CC-BY-SA
unless otherwise noted.