Mesprit is a Psychic-type region-exclusive Legendary Pokémon from the Sinnoh region. It does not evolve into or from any other Pokémon. Along with Uxie and Azelf, it is a member of the Lake Guardians.
Pokédex description
Emotion Pokémon
It sleeps at the bottom of a lake. Its spirit is said to leave its body to fly on the lake's surface.
- Mesprit's cry
Possible attacks
Fast attacks


Charged attacks



Evolution family
Mesprit is part of a one-member family.
Availability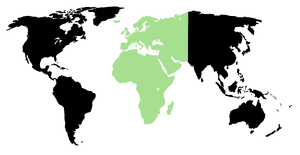 Method
Maximum CP
Details

Wild
2,621
2,840
(weather boosted)
In wild since 2019 Apr 29

Raid Battles
1,747
2,184
(weather boosted)
Tier 5 CP 41,887

Lake Legends Event: 2020 Nov 24 - Dec 1[2]
Water Festival 2019 Legendary Raid Hour: Aug 28[3]
2019 May 2 - 27[4]


GO Battle League
1,747
Obtainable starting from rank:
7 (2020 Nov 24 - 30)
Gallery
Trivia
Few hours after the release, the flee rate of Mesprit was removed.[5]
References
External links
Community content is available under
CC-BY-SA
unless otherwise noted.