Maractus is a Grass-type region-exclusive Pokémon from the Unova region. It does not evolve into or from any other Pokémon.
Pokédex description
Cactus Pokémon
Arid regions are their habitat. They move rhythmically, making a sound similar to maracas.
Possible attacks
Fast attacks


Charged attacks



Evolution family
Maractus is part of a one-member family.
Availability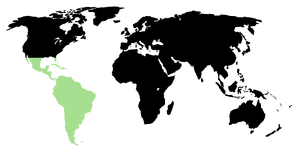 Method
Maximum CP
Details

Wild
1,949
2,111
(weather boosted)
In wild since 2020 Jan 10

Eggs
1,299

Increased chance/Previously in:
Native 5-km - 2020 Jan 10 - 2021 Jun 1
External links
Maractus page, on the official Pokédex website
Maractus article, on the Bulbapedia
Maractus article, on the Pokémon Wiki
Pokémon

Maractus