Fire Emblem Warriors: Three Hopes - The Loop
Play Sound
Lunatone is a Rock, Psychic-type region-exclusive Pokémon from the Hoenn region. It does not evolve into or from any other Pokémon.
Pokédex description
Meteorite Pokémon
Lunatone was discovered at a location where a meteoroid fell. As a result, some people theorize that this Pokémon came from space. However, no one has been able to prove this theory so far.
- Lunatone's cry
Possible attacks
Fast attacks

Charged attacks


Evolution family
Lunatone is part of a one-member family.
Availability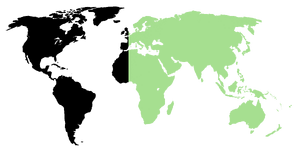 Method
Maximum CP
Details

Wild
1,995
2,161
(weather boosted)
In wild since 2018 Jan 23

Increased spawns in:
Pokémon TCG Crossover Event: 2022 Jun 16 - 30
Summer Solstice 2021: Jun 17 - 20 (worldwide)
Enigma Week: 2020 Aug 7 - 14 (worldwide)
Summer Solstice 2020: Jun 19 - 24 (see Event page for details)
Psychic Spectacular 2020: Mar 27 - 30 (all day)
Adventure Week 2019: Jun 4 - 11
Equinox 2019: Mar 19 - 26


Eggs
1,330

Increased chance/Previously in:
Native 5-km - 2019 Sep 26 - 2020 Oct 19
7-km - Enigma Week: 2020 Aug 7 - 14 (worldwide)
5-km - Summer Solstice 2020: Jun 19 - 24 (worldwide)


Raid Battles
1,330
1,662
(weather boosted)
Tier 3 CP 15,009

Visit List of Raid Bosses changes for complete appearance


Research tasks
997
Field Research:
Make 5 Nice Curveball Throws: Ultra Unlock Part 2: Space (worldwide)
Catch 5 Lunatone;
Catch 5 Solrock: Summer Solstice 2021 (worldwide)
Catch 3 Dark-type Pokémon: Summer Solstice 2020 (worldwide)
Special Research/Timed Research:
Ultra Unlock 2021: Space - 2nd part: Use 5 Razz Berries to help catch Pokemon (worldwide)


GO Snapshot
1,995
Obtainable during:
Summer Solstice 2021: Jun 17 - 20 (up to 4 per day, worldwide)
Gallery
Trivia
References
External links