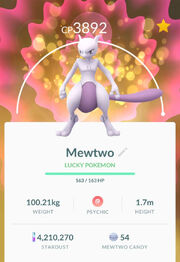 Lucky Pokémon are special Pokémon that are more likely to be stronger opponents in battle and require less Stardust to power up. Their minimum IV floor is 12/12/12. [1]
Background
When trading Pokémon, there is a chance that Pokémon can become a sparkly Lucky Pokémon. Lucky Pokémon require less Stardust to power up, which means they can reach a higher CP much faster than other Pokémon.[2]
Appearance

Lucky Pokémon have a green label, below their name, indicating that they are lucky. Their background also features shimmering effects on their Pokémon Profile and in the Pokédex. The number of each Lucky Pokémon a Trainer has encountered will be tracked in the Pokédex.[2]
Gallery
Trivia
The Stardust cost for powering-up a Pokémon will be reduced by 50%.[3]
Although Pokémon turn into Lucky Pokémon at random when traded, the longer a Pokémon has been held onto, the greater the chances that they will become Lucky Pokémon.[1]
Before September 5th, 2018, Lucky Pokémon had a minimum IV floor of 10/10/10.
References
Community content is available under
CC-BY-SA
unless otherwise noted.