Kangaskhan is a Normal-type region-exclusive Pokémon from the Kanto region. It does not evolve into or from any other Pokémon. It can Mega Evolve into Mega Kangaskhan after being given a certain amount of Mega Energy.
Pokédex description
Parent Pokémon
If you come across a young Kangaskhan playing by itself, you must never disturb it or attempt to catch it. The baby Pokémon's parent is sure to be in the area, and it will become violently enraged at you.
- Kangaskhan's cry
Possible attacks
Fast attacks


Charged attacks




Attack availability
Evolution family
Kangaskhan is part of a one-member family.

Availability
Kangaskhan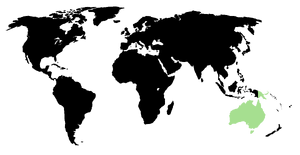 Mega Kangaskhan
Mega Kangaskhan has not been released yet.
Gallery
Trivia
External inks
Community content is available under
CC-BY-SA
unless otherwise noted.