Heracross is a Bug, Fighting-type region-exclusive Pokémon from the Johto region. It does not evolve into or from any other Pokémon.
Pokédex description
Single Horn Pokémon
Heracross charges in a straight line at its foe, slips beneath the foe's grasp, and then scoops up and hurls the opponent with its mighty horn. This Pokémon even has enough power to topple a massive tree.
- Heracross's cry
Possible attacks
Fast attacks


Charged attacks



Evolution family
Heracross is part of a one-member family.
Availability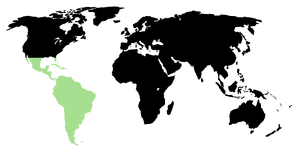 Method
Maximum CP
Details

Wild
2,658
2,879
(weather boosted)
In wild since 2017 Feb 16

Eggs
1,772
native 5-km Eggs since 2019 Sep 26
Gallery
External inks
Community content is available under
CC-BY-SA
unless otherwise noted.