Heatmor is a Fire-type region-exclusive Pokémon from the Unova region. It does not evolve into or from any other Pokémon.
Pokédex description
Anteater Pokémon
It draws in air through its tail, transforms it into fire, and uses it like a tongue. It melts Durant and eats them.
- Heatmor's cry
Possible attacks
Fast attacks


Charged attacks



Evolution family
Heatmor is part of a one-member family.
Availability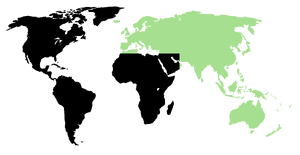 Method
Maximum CP
Details

Wild
2,053
2,224
(weather boosted)
In wild since 2019 Sep 16

Increased spawns in:
Pokémon GO Fest 2020: Jul 25 - 26 (ticket only)


Eggs
1,368

Increased chance/Previously in:
Native 5-km - 2019 Sep 26 - 2020 Oct 19
Gallery
Trivia
Heatmor is currently a region-exclusive Pokémon of Europe, Asia and Australia.

Heatmor was originally a region-exclusive Pokémon of the Americas and Africa. It swapped to the Europe, Asia and Australia on November 30th, 2020.
External links
Community content is available under
CC-BY-SA
unless otherwise noted.