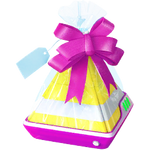 A Gift is an item that can be sent to another Trainer. Gifts contain items that are of higher value than what Trainers normally obtain from spinning PokéStops, supporting the feeling that your friends are really helping you make the best of your Pokémon GO journey.[1] Only one gift can be sent to each Friend per day and at most 20 Gifts that can be opened in a single day.
Due to coronavirus outbreak, trainers now can open 30 Gifts per day and store 20 Gifts.[2]
There are two kinds of gifts — regular and sponsored.
The following is an in-game description of the item:
A box that you can send to a friend. Contains a variety of useful items.
Stickers
To be added.

Sponsored Gifts
To be added.
Trivia
Trainers may have up to 10 Gifts in their bag at any given time and they do not take up any space in the bag.
In order to obtain 7-km Egg from the received gift, trainer needs space in their eggs collection, exactly like in case of obtaining eggs from Photo Discs.
There must be enough room in the Item Bag, before opening the gift.
In 0.179.0 game update, Sponsored Gifts were added to the game.
References
Community content is available under
CC-BY-SA
unless otherwise noted.