Farfetch'd is a Normal, Flying-type region-exclusive Pokémon from the Kanto region. It does not evolve into or from any other Pokémon. It has a Galarian form that is Fighting-type which evolves into Sirfetch'd when fed 50 candies, but the evolution is not available currently.
Pokédex description
Wild Duck Pokémon
Farfetch'd is always seen with a stalk from a plant of some sort. Apparently, there are good stalks and bad stalks. This Pokémon has been known to fight with others over stalks.
- Farfetch'd's cry
Possible attacks
Fast attacks


Charged attacks

Fast attacks


Charged attacks


Evolution family
Farfetch'd is the part of a two-member family.
35.


#083 Farfetch'd

#083 Galarian Farfetch'd

50 

Currently unavailable

#865 Sirfetch'd
Availability
Farfetch'd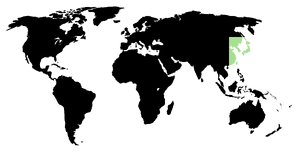 Galarian Farfetch'd
Farfetch'd was released to celebrate the release of Pokémon Sword and Shield Expansion Pass: The Isle of Armor on June 17th, 2020.
Gallery
Trivia
References
External links
Community content is available under
CC-BY-SA
unless otherwise noted.