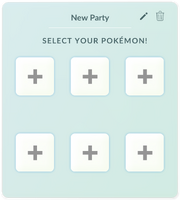 A
Battle Party
is a loadout system that allows a
Trainer
to create and name teams of up to six (three in
Trainer Battles
)
Pokémon
in their
Pokémon collection
for quick access when participating in
Gym battles
and
Raid Battles
.
[1]
Background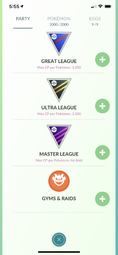 Battle parties are preset teams of up to six Pokémon that Trainer are able to create and customize to fit their needs. Trainers can create different parties for frequent Raid Battles, or have battle parties that take advantage of certain
weather
bonuses.
[1]
During the initial beta phase, battle parties were saved to a single device, so parties did not transfer if a Trainer bought a new device or used multiple devices to play Pokémon GO. Once the feature was fully launched, battle parties carried over to each device that a Trainer logs into.[1]
With the introduction of Trainer Battles, Trainer can construct three battle parties for each league. However, only three Pokémon can be assigned in the battle party of this mode.
Trivia
References
External links